No matter what time of year you're reading this, it's always a good time to plan out projects for the spring and summer.
As the weather gets warmer, things can get hectic and it's smart to already have a plan in place. Between work, the garden, the yard, and everything else… it's a lot to handle!
Despite how busy it can be, most of us are always looking for ways to improve our homes and backyards.
For this reason, I'd like to suggest a quick outdoor living project for the spring/summer that will provide you tons of value for years to come.
What Outdoor Kitchen Kit is Best?
There are a lot of options out there, and it can be tough to decide what the best option for you is.
I won't be taking a deep dive into comparisons here, I just want to give you a general idea of what is available. If you're looking for more information about your options, you can learn more here.
The main three options for outdoor kitchen kits available today are:
Ready-to-Finish (RTF) Outdoor Kitchen Kits
Prefabricated Modular Outdoor Kitchen Kits
Ready-to-Assemble Outdoor Kitchen Kits
The offering we will be discussing throughout the article is ready-to-assemble. However, let's talk a bit about each offering so you understand the differences.
RTF outdoor kitchens come as prefabricated frames wrapped in cement board. These options require masonry, tile, or stone finishing at your home.
Prefabricated or Modular kits come pre-built and ship to you fully assembled. What is gained in convenience is often lost in quality.
Ready-to-Assemble outdoor kitchens come pre-finished. These kits are shipped to your door as panels that require light assembly. The panels also come finished with appliance openings.
From my perspective, ready-to-assemble kits provide the best in quality, durability, style, and time efficiency. However, I encourage you to do your own research and learn which option is best for you.
In this article, we'll specifically be talking about ready-to-assemble outdoor kitchens from RTA Outdoor Living. They are one of the only companies on the market offering this system, with highly successful results.
Now, let's discuss some of the benefits to adding an outdoor kitchen to your backyard living space.
Outdoor Kitchen Kits Add Value to your Home
Homeowners are always looking for ways to add value to their home when it comes time to sell.
Adding an outdoor kitchen to your backyard living space is an excellent way to boost value and get a return on your investment.
Having an outdoor kitchen in your yard essentially creates an outdoor 'room'. This extra living space allows you to demand a higher price point when selling.
Outdoor kitchens are also unique and will set your home apart from the competition. Many buyers are willing to pay a premium for a well-designed outdoor living space.
Since RTA outdoor kitchens can be assembled in one afternoon, this is an incredibly time-efficient way to add value to your home. Its modern design and durability will attract motivated buyers of all types.
Best of all, this investment can be enjoyed by your family well before your home is sold.
Outdoor Kitchens as the Entertainment Center of your Home
With more and more time being spent at home these days, we need our homes to provide more in the way of entertainment.
The concept of a 'staycation' has become more popular than ever. Many homeowners are looking for ways to upgrade their space and create the experience of a luxury vacation from home.
An excellent way to accomplish this is by adding an outdoor kitchen to your backyard.
For many, dining on delicious food is a huge component of an enjoyable vacation. When staying home, this is often missed.
With an outdoor kitchen, you can create a luxury dining experience from the comfort of your own home.
Best of all, you control the whole process. You control the ingredients, how it is prepared, how it is cooked.
There's something special about cooking an incredible, delectable meal on the grill… With the warm sun shining down upon you… A gentle fresh breeze mingling with the aroma of steaks on the grill… The chime of laughter from family mingling and enjoying the beautiful weather.
You'll notice that suddenly all your friends, neighbors, and extended family are going to be begging to come over for a cookout!
An outdoor kitchen sparks connection and socialization with the people we love most. Memories made over a home-cooked juicy burger will be remembered and treasured for years to come.
RTA outdoor kitchens are an excellent option, especially if you are already in the middle of peak barbecue season.
Often, an outdoor kitchen can take weeks, even months to install. RTA outdoor kitchens take as little as 1-2 weeks from start to finish (more for custom). That means you'll still have plenty of time to entertain and grill, even in the middle of summer.
You can further improve the entertainment value by adding a fire feature kit to your backyard as well.
A fire feature will extend the party well into the evening. Guests naturally flow from the kitchen to the glow of a gentle fire to chat the night away.
Even if you're not hosting a party, there's something meditative about sitting before a fire in quiet reflection. It's a peaceful way to end every evening, guests or not.
An outdoor kitchen isn't just about the entertainment it provides. It's also about igniting the passion for food and cooking.
Revive your Passion for Cooking with an Outdoor Kitchen
We all lead busy lives.
Between work, family, events, and other commitments… There's little time leftover to put food on the table.
We resort to takeout and frozen meals to fill the gap. We overextend ourselves and there's simply not enough time to prepare a delectable meal during the week.
If you love to cook, let an outdoor kitchen inspire you again.
I understand time is a constraint during the week, or even weekends depending on your schedule. Whatever day you have off is the perfect time to dedicate to cooking again.
Now, why is an outdoor kitchen better to reignite your passion for cooking than a regular kitchen?
That's a good question.
One of the main reasons is an outdoor kitchen is free of distractions. When you're cooking indoors, there's all kinds of things that can throw you off your game. The phone rings, someone's watching TV loudly, you see the stack of papers you have to deal with, etc.
Cooking outdoors is peaceful. It's just you, the kitchen, and the great outdoors. You can really look inward and find inspiration to create again. To create a meal straight from the heart.
An outdoor kitchen also allows you to use techniques you simply can't pull off inside.
Grilling food creates a beautiful char and depth of flavor that a pan seared steak just can't compete with.
In addition to a grill, you may also have opted for a smoker or pizza oven. Both allow you to create complex flavors that again can't be replicated with indoor appliances.
These appliances open the door to a whole new aspect of cooking to explore and be inspired by. It's not limited to proteins either, there's plenty to experiment with fruits and vegetables.
For example, you could grill peaches and serve with a brown butter sauce for a heavenly summer dessert.
On your days off, get acquainted with your outdoor kitchen and let your mind run wild.
Get inspired by cooking again, and by the great outdoors.
An Outdoor Kitchen Connects you to the Great Outdoors
It may not seem like it at first, but an outdoor kitchen absolutely heightens your connection with nature.
As mentioned before, we all lead busy lives. It's go to work, come home, sleep, wake up, and do it all over again.
There aren't enough hours in the day and too many summers have been squandered on account of a busy schedule.
Don't let that happen again.
An outdoor kitchen allows us to enjoy the beauty of the outdoors without having to travel somewhere.
Just think about it.
You're outside grilling kebabs and you just take a moment to soak it all in. Feel the light and the warmth of the sun on your skin. Feel the gentle breeze grazing your skin. Smell the fresh air coupled with the heavenly aroma of the food you're grilling. Feel the grass, the earth beneath your feet. You're grounded.
Once your meal is ready to eat, your family gets to dine outdoors in the beautiful weather. You pause and appreciate the moment.
It's easy to marvel at what a beauty nature is when you're cooking outside.
It's all around you.
You don't have to drive somewhere to get away from it all. Getting away from it all is right in your backyard.
So now the question becomes… Where do you begin?
Where to Begin for your Outdoor Kitchen Project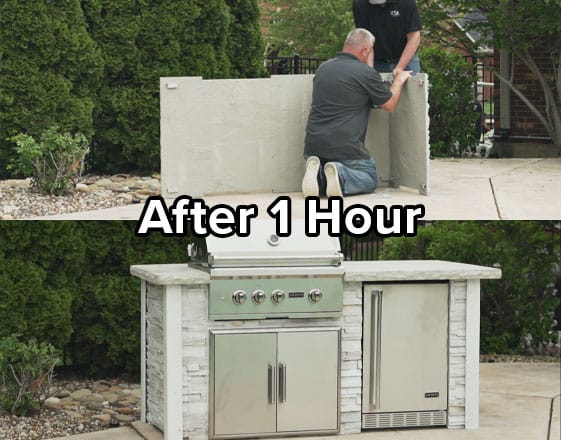 Well if you haven't already, do your research! I can't stress that enough.
Adding an outdoor kitchen to your backyard is a big purchase and it's essential you make a well-educated decision.
In terms of aesthetic, you can accomplish a lot by searching for outdoor kitchen ideas. You'll find tons and tons of images to inspire your design.
Research different appliance brands and get an idea of what is most important for you to include. In addition to a grill, you may want:
A sink to wash your hands without having to go inside
A refrigerator to store cold drinks and condiments
Storage doors and drawers for all your cooking notions
A pull-out trash to keep everything tidy
A smoker to create dishes with incredible depth of flavor
A pizza oven to recreate the gourmet restaurant experience at home
An extra burner for lobster boils or other dishes
A spice rack to keep all the seasonings you need handy
A warming drawer to keep all your food at the proper temperature for serving
Thankfully for RTA, Coyote Outdoor Living has all these appliances and more that fit RTA's outdoor kitchens.
If you choose to go a different route, however, you can likely find most of these options elsewhere.
It's important to understand what all your options are so you can decide what appliances are most important for your outdoor kitchen.
Once you have a decent understanding of the look you're going for and the appliances you want, you can start to think about design.
This is where it can get challenging.
For most other prefabricated options, there isn't much flex (if at all) with design. Because everything is pre-built there isn't a way to have an outdoor kitchen custom designed in most cases.
The other option is scratch-built which is quite time-intensive when it comes to design. These designs are often-hand drawn and it can be difficult to visualize what the outdoor kitchen will actually look like in your backyard.
If you decide to opt for RTA outdoor kitchens, design is much more streamlined. In fact, they have an online design tool that can have your outdoor kitchen designed in a few clicks with a quote on the way. You pick the layout you want, appliances, color, and it shows you a 3D rendering of what the final outdoor kitchen will look like. Pretty neat, right?
Once your outdoor kitchen has arrived, it's time to assemble.
Depending on the route you've taken, this can vary in terms of labor intensity. I will speak only for RTA outdoor kitchens here.
Once arrived in your yard, all you have to do is uncrate and assemble. As long as you've got a friend to help and a power drill, you're good to go.
After a few hours, your outdoor kitchen will be fully assembled and ready to use. How satisfying is that?
From start to finish the whole process takes only 1-2 weeks, (more for custom projects). 90% of the work is done before it even arrives at your doorstep, so you hardly have to lift a finger. RTA has thought of everything.
With such a short lead time, an outdoor kitchen kit is an excellent project to upgrade your backyard living space. There's minimal disruption of your schedule and you end up with a beautiful piece that will enrich your life for years to come.
All things considered, I hope I've got you thinking a bit more about adding an outdoor kitchen to your backyard! I assure you it's well-worth the investment.
So what are you waiting for?
Start planning your outdoor kitchen!