Who has time for a bath these days? Try out these helpful hints and maybe you'll start making time!
Living with a panic disorder, it's been challenging to find ways short of medication to keep my nerves low. With today's world of instant everything, I found it important to find 30 minutes each day to soak in the tub. Though I don't claim these methods to work for everyone, I found these helpful hints particularly good at reducing stress:
Play your Favorite Music
It's hard to find anyone that does not have an mp3 player of some sort these days, or even a laptop computer. Find some speakers and plug in your favorite tunes before you even begin to run the water. This helps keep the entire process peaceful. And there isn't any right or wrong choice in music selection. Personally, I enjoy playing some opera and letting the flowing melodies float over and around me as I soak.
Using Bath Salts to Suit Your Needs
Bath Salts are not a thing of the past! You can easily find them online and in most grocery stores. The most effective scents for salts are Lavender, Chamomile and Sandalwood.
All have been attributed to helping reduce mental and physical anxiety as well as bring on feelings of clarity, relaxation and stability. Simply pour a desired amount of salts into the running water and let your mind (and nose) ease away all your trouble.
Baths, 18th Century Style
By this, I do not mean bathe once every few months. I simply mean turn off that electricity and light some candles. You can even find in the same scents as your salts! Watching the flame(s) dance can be surprising relaxing. It is so simple yet effective in clearing your mind, and you can find cheap candles in almost any retail store.
And Who is Bubbles?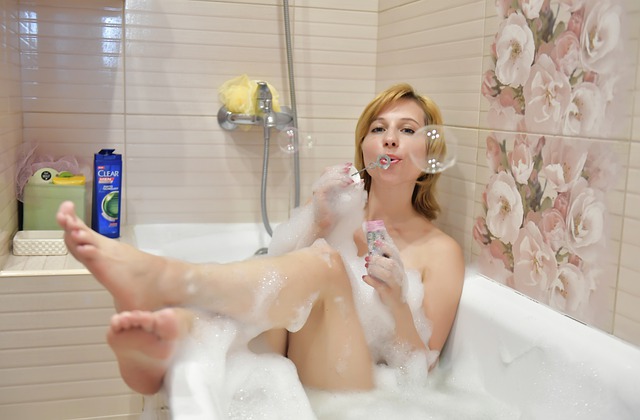 Your new best friend. Mistakenly thought to be only for children, a bubble bath can be just the thing for relaxing your body after a tough day at work or school. And talk about cheap! Bubble bath formula can be incredible easy to make with items you may already have at home. This is the perfect opportunity to create your own scents based on your own preferences!
Let the Water Run Down
So bath time is over, now what? I find that laying flat in the tub while the water drains can be particularly evocative.
At first, your breathing is light and easy as your chest cavity is emerged in water. But as it drains down you become aware of your own feelings and what comes from it is a unique sense of self love. It is a perfect metaphor for picturing all of your worries and fears melting off of you and flowing right down the drain where they belong. Goodbye worries! Hello Life!