Every household will experience pest infestations at some point in their lives. And if you're currently experiencing it or have done so in the past, you know how stressful and antagonizing it can be to deal with this predicament. Pests can weaken the structural integrity of your home and harm your family's health and safety.
With the threat it can pose to your family, there's no need to tolerate pests like ants, termites, mosquitoes, and other bugs. Luckily, you can perform some quick DIY hacks or, better yet, hire the best pest control services to deter them. Even if you live in a colder climate, these pests might have entered your home to seek hiding and finally come out when the weather becomes warmer. You can prepare early and know what to do when pests manifest in your home.
To help you, be familiar with the different household pests and learn how to get rid of them:
1. Termites
While termites don't potentially carry any harm to humans, it sure is a nuisance to your beloved home. Your family might experience stress and worries about your belongings as these pests damage some of your furniture.
They usually feed on wood, and termite manifestation can severely damage your architectural structures. Hence, it's best to hire pest control services to mediate this problem. Professional pest control services are often overlooked until it is too late.
DIY treatments for termites can be complex. The wrong approach could lead to the pests multiplying with no sign of slowing down. Termites usually spread even more through your ventilation systems, so it's best to treat them right as you discover where they live. Improperly using pest control products can lead to serious health risks.
And even when you think you've already solved the problem, chances are there are even more termites hiding in different places in your house. All your efforts will only go down the drain when this happens. Not to mention, you've already spent a lot of money on chemical pest poisons to get rid of them.
Pest control companies can come out in just one or a few sessions and fix everything, depending on the gravity of your pest problem. Due to their expertise and experience, they're the right people to call when you have termites at home.
2. Mice
Mice damage to a house or belongings is something no one wants to experience. They can be dangerous to your family, especially your children, when they accidentally eat food that had contact with them.
They're keen on spotting your food sources, so you'll find more of your food stocks getting eaten away by mice at home. Unlike other harmless pests, mice carry more harm and diseases. They can potentially transfer their bacteria to humans, so it's crucial to solve this problem right away.
Mice can squeeze into small holes and gaps depending on their sizes. Just when you think they won't be able to pass through a small chip on your wall, they actually can. Therefore, it's essential to assess your home and find holes and gaps to block. The best way to keep mice out of your home is by using steel wool.
Use steel wool to seal holes or cracks in your walls and baseboards, so mice and other household pests cannot chew through them. Close any gaps with steel wool tightly. After that, seal the hole in place with caulk. While some mice can chew on steel wool, it will eventually lead to their passing. Do this easy DIY trick, and you won't have to waste your food on these animal thieves.
3. Ticks And Mosquitoes
Ticks and mosquitoes are very dangerous for your pets and kids. They can potentially transfer diseases to humans when they bite. Hence, when you understand that there are indications of these pests, it's best to solve them as soon as possible.
One effective way is to use cedar oil or lemongrass oil. These are common pesticides for plants but can also be used for your household. However, it's essential to prepare them in low concentrations so they won't irritate the skin.
It is possible to repel insects from your lawn and shrubs by spraying cedar oil diluted with water. You can start from those areas so they will die even before entering your home's interiors.
This solution is entirely organic and safe for your family and pets. It's best to spray this solution in your yard at night so the pests can die overnight and your family can go out safely. Other than cedar oil, you may also use plants to repel ticks, such as catnip, rue, rosemary, and chrysanthemum.
4. Ants
Many homes can find ants in the kitchen, dining room, and even bedrooms. Most ants bite, and they can be painful at times. If they feel threatened, they pinch the skin with their mouths and mandibles.
Even if the pain of their bites goes away in a few seconds or minutes, it can be distressing for your family and kids. Ant bites can even lead to a more severe infection or skin disease if it frequently happens or is left untreated.
To get rid of ants, it's best to use your organic herbs. They don't like the pungent odors that come with them. So, use eucalyptus oil or garlic oil in places you find ants most. Other home remedies are cayenne pepper, chili pepper, mint, cinnamon, and black pepper. You may also leave bay leaves in kitchen cupboards and countertops. All these will deter ants from your home.
5. Stinkbugs
It is becoming more and more common for stinkbugs to attack fruits and vegetables in many areas. Although they don't bite humans or carry diseases, they can cause damage to your properties, similar to termites.
They even come with their pungent odor making it uncomfortable for your family to breathe indoors. Therefore, it's crucial to resolve this problem right away. The best way is to seal your home by using weatherstripping, caulking, and other gap blocks.
It's advisable to look for their origin and vacuum them from their places. Check around your home and see where their breeding ground is. Before stinkbugs come inside your home, it's essential to block them out, so ensure that your entryways are always closed, especially at night.
6. Cockroaches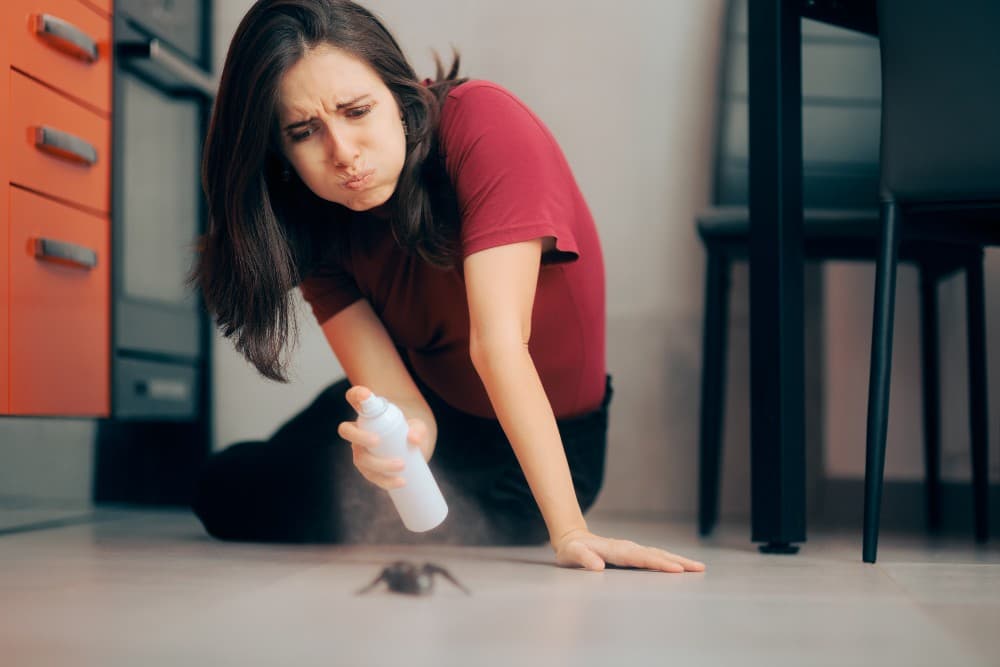 Many people hate the sight of cockroaches, and even more so when they fly over in your direction. There are many ways to get rid of these pests. You can use chemical sprays and foggers, but you can also find safer alternatives. It is possible to get rid of these nasty critters with a handful of effective home remedies safe for children and pets.
There are many clever uses for baking soda around the house, and one is to thwart roaches. It is probably something you have in your pantry already, so it's one of the simplest ways to remove cockroaches.
You can combine onions with baking soda and put them on a pan in areas where you usually find roaches. Upon consuming baking soda, the cockroaches create gasses that cause them to die finally.
Conclusion
Although you can lessen the manifestation of pests in your home using home remedies, you cannot eradicate pests without professional assistance. Especially if you have a more severe infestation, it's always wise to trust reputable pest control service providers since they have the right tools and strategies to ward off any insect at home. These pest control professionals use certified chemicals and measures to ensure your and your family's safety. So, you can rest easy knowing that you can eradicate your pests at home while staying safe and healthy.