No matter where you're going on holiday this year, your beloved pet will most likely want to come with you. If you're looking to take your pup with you on your next holiday, check out this list of the best destinations to take your dog to ensure they have the most fun possible.
1. Take Your Dog To A National Park
National parks are a great place to take your dog on a holiday because they're usually abundant with scenic views, and there's no shortage of space for them to run around.
The United Kingdom's The Lake District, for example, is a perfect location if you and your dog love adventure as mountains and glistening lakes surround the place. Accommodation isn't also a problem if you plan to visit for a week as there are many dog friendly cottages in Lake District and nearby areas. 
Remember that each National Park has its rules, so you must check them beforehand. There are locations where dogs are only allowed on certain trails and at specific times, so make sure you know the restrictions before going. Aside from the park's regulations, everyone must also follow common rules when visiting national parks to maintain their beauty.
Most national parks have a ton of scenic trails that allow visitors to enjoy nature and wildlife. If you plan to take your dog, ensure they stay on trails and don't cut through them or get lost. Keeping them on a leash is always a good idea, so they don't wander off and get lost. You may also consider bringing some identification tags just in case something happens.
Make sure not to litter. Whatever you brought to enjoy your time in national parks must be disposed of properly. If you carry food and water for your dog, ensure you get a container, so they don't spill all over trails.
Ensure your dog is always within your sight, especially when they come across other animals like deer or bears. Animals can react aggressively towards dogs and could harm them without warning. It'll be best to train your dog to obey commands such as sit and stay while exploring the park. That way, they won't get too close to wildlife that could harm them.
2. Take Your Dog To The Beach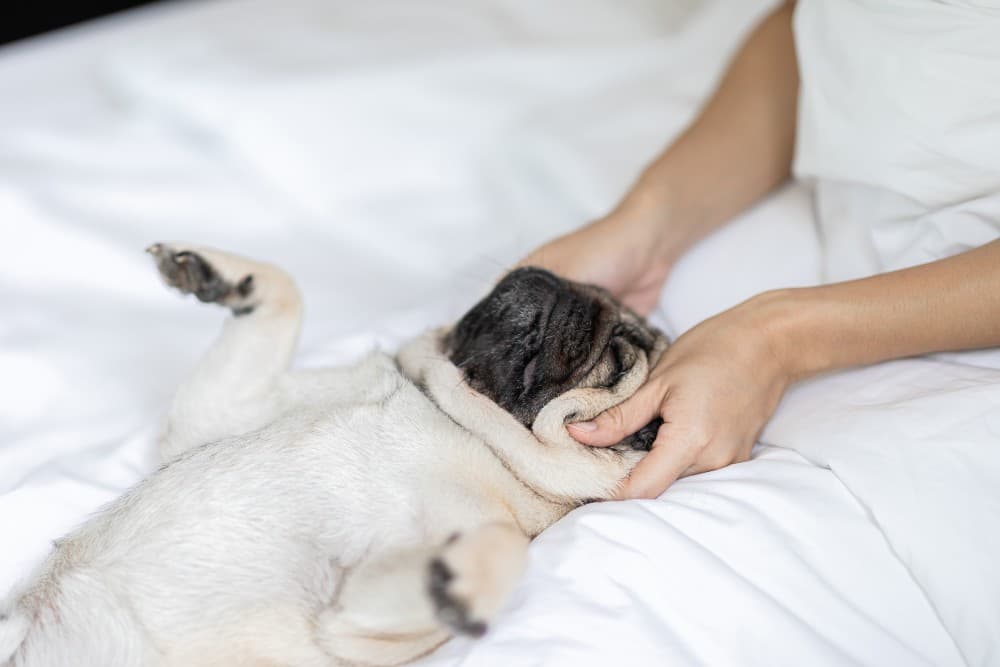 The great outdoors is a great place for your four-legged partner.
If your dog loves water but hasn't been to the beach before, this is a great place to start. Beaches are an ideal place to introduce them to swimming. They'll surely love the waves coming in and out again.
While some dogs are afraid of getting wet at first, they soon find it can be fun. They can sniff around for treasures that have washed up on shore like seashells or crabs. Some may also like exploring all the nooks and crannies near the waterline. You can also do many things at the beach like collecting seashells, fishing, or playing fetch with your pup. You can even try things like surfing, or boogie boarding, which can be fun for some dogs.
It may be best to avoid beaches with large crowds as not every person will know how to properly approach a strange dog without fear. You may also want to bring a leash so you can keep them close by and prevent accidents when they see another four-legged friend.
Lastly, remember that not all beach resorts allow dogs, so it's best to check first when booking accommodation dates. If they allow pets, it's safer that you book a room on the ground floor with no balconies, particularly if your furry companion isn't insured. You won't risk them jumping out or accidentally slipping through an open balcony door. While many resorts may not allow dogs on their property, many other locations do, so ensure to book your stay in a place where they're welcome.
3. Stay In Pet-Friendly Hotels
Hotels can also be a great place to go on holidays. There are hotels that offer dog-friendly perks, such as indoor dog parks, which are great if your furry friend isn't a fan of walks in colder weather. They also provide doggie beds and bowls as well as treats to pamper your pup during your stay. Some hotels even offer complimentary dog walking services for guests who want to take their pets out for some fresh air.
There are even activities that you can do with your dog while on vacation such as: going to the nearby beach, going hiking or skiing in nearby mountains, or just hanging out at the hotel. If your dog chews on everything, these can also help manage your dog's time. You may also try their cafes that allow dogs to come inside with you and dine with you while they wait patiently under the table. In some places, they even allow you to dine with your four-legged friend by sitting in high chairs and booster seats.
Massages are another way to spend quality time with your dog in luxury hotels. Not only does it feel good for them, but you get to relax too. Your pooch may even try dog spas where they can get groomed and have their nails clipped and ears cleaned.
The activities they offer, as well as their staff who take good care of your pets, make these hotels perfect places to stay for a holiday. Thus, many of them might be in demand so it's always suggested to book up weeks from your target date to ensure you'll get accommodation.
It may also be helpful to look up reviews from previous customers before booking to avoid any surprises when arriving at the hotel and not finding any accommodation for your pet. Plus, some hotels may be pet-friendly but they have restrictions, such as allowing maximum weight, breed, and number of pets per room. Before making reservations, be sure to check all these details because there are various rules depending on what type of accommodations, you're staying in.
Conclusion
These are only a few of the great places to take your dog for a holiday that's fun for both you and your four-legged friend. Just remember to do your research before you plan a holiday and book accommodations that are specifically designed for dog lovers like you. In that way, the two of you can enjoy your vacation in peace and style.
Regardless of where you go, may you and your dog have a fun and relaxing trip!