Racehorses are specifically bred for competitive sports. They are expensive not only in terms of buying price but also in terms of maintenance. Be it derby or equestrian sports, racehorses are sights to behold in the horse race tracks. As a public spectacle, there are a lot of quotes associated with horse racing.
Some are focused on racehorses being the highlight of the racetrack. One comes from Federico Tesio, a renowned Italian breeder, saying: "a horse gallops with his lungs, perseveres with his heart and wins with his character."
Others romanticize the relationship between the racehorse and the jockey like this one from author of Seabiscuit: An American Legend, Laura Hillenbrand, "when a horse and jockey flew over the track together, there were moments in which a man's mind wedded itself to the animal's body to form something greater than the sum of its parts."
The Greek scribe Ovid on the other hand, used horse racing as a metaphor on leadership and generally about life with his statement, "the spirited horse, which will try to win a race of its own accord, will run even faster if encouraged."
This horse racing quote from Magic Journal will surely give you a more positive disposition saying that, "(like horse racing) hold on to what makes you happy. If it tries to buck you off, just hold on even tighter."And alluding to horse racing, singing duo No Way Josie reminds us what enthusiasm towards life should look like: "ride it like you stole it."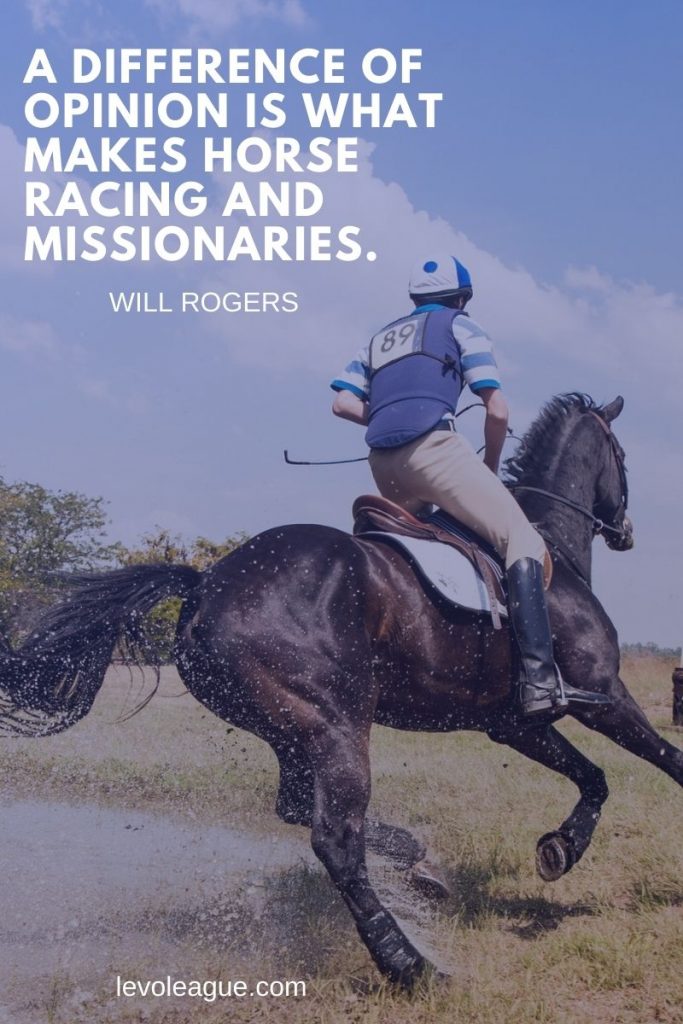 A difference of opinion is what makes horse racing and missionaries. ~Will Rogers

A good rider can hear his horse speak to him. A great rider can hear his horse whisper.

A horse gallops with his lungs, perseveres with his heart, and wins with his character. ~ Federico Tesio

Any horse can win on any given day. ~ Angel Cordero, Jr.

As a teenager, I developed a great interest in not only horse breeding but also horse racing and used to bet based on red-hot tips. I realized that becoming a bookmaker would be very lucrative, but Dad put his foot down, saying it was an inappropriate career. ~Cyrus S. Poonawalla

Books on horse racing subjects have never done well, and I am told that publishers had come to think of them as the literary version of box office poison. ~Laura Hillenbrand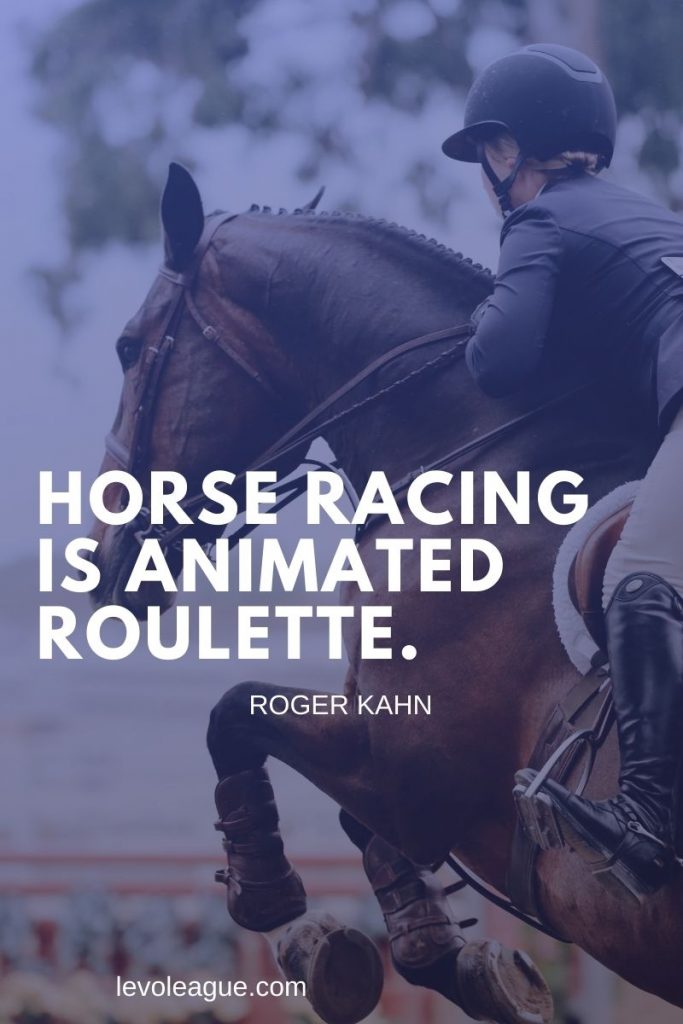 Horse racing is animated roulette. ~Roger Kahn

Horse racing is waning in popularity. ~Elayne Boosler

Horse sense is the thing a horse has which keeps it from betting on people. ~ W. C. Fields

I had a hard time treating my field as if it's horse racing, putting actors in competition against each other. I see how the industry and the studios feel it's important, but I don't really have a feeling for being in competition. I want to feel sympathetic and close to others, not opposed to them. ~Alan Arkin

I like horse racing but I'm not an All-Star in horse racing. I'm an All-Star fan in horse racing. ~Nikola Jokic

I love horse racing, I play golf, and I love travelling. ~Ian Rush

I played a great horse yesterday! It took seven horses to beat him. ~ Henny Youngman

I read a statistic that in horse racing, the favourite only wins 12 per cent of their races.
I'm not comparing myself to a horse or saying I'm the favourite – although my sister would say I can nag an awful lot – but nothing is guaranteed in sport. Anyone can step up and take what you perceive to be your place in the final. ~Cate Campbell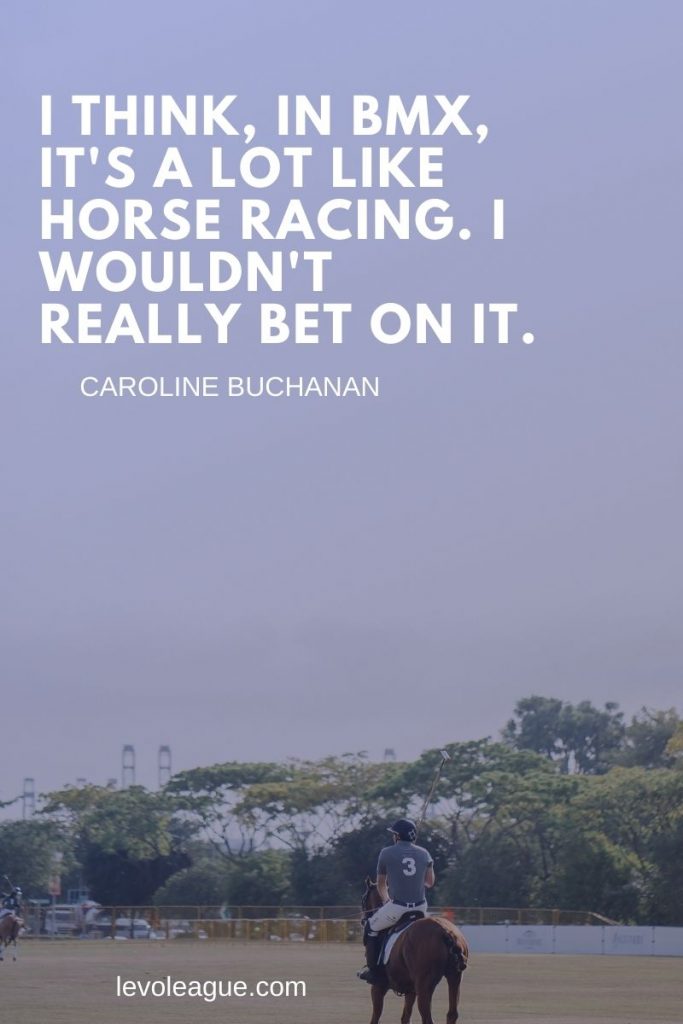 I think, in BMX, it's a lot like horse racing. I wouldn't really bet on it. ~Caroline Buchanan

If horse racing is the sport of kings, then drag racing must be the sport of queens. ~ Bert Sugar

If you want to understand the effect of weight on a horse, try running for a bus with nothing in your hands. Then try doing it with your hands full of shopping. Then think about doing that for four and a half miles. ~ Jenny Pitman

It's kind of ironic that the two sports with the greatest characters, boxing and horse racing, have both been on the decline. In both cases it's for the lack of a suitable hero. ~ Dick Schaap

My father is a huge horse racing fan, so I was introduced to the sport long before 'Seabiscuit.' But the role made me an even bigger fan. Horse racing is one of my favorite sports. ~Elizabeth Banks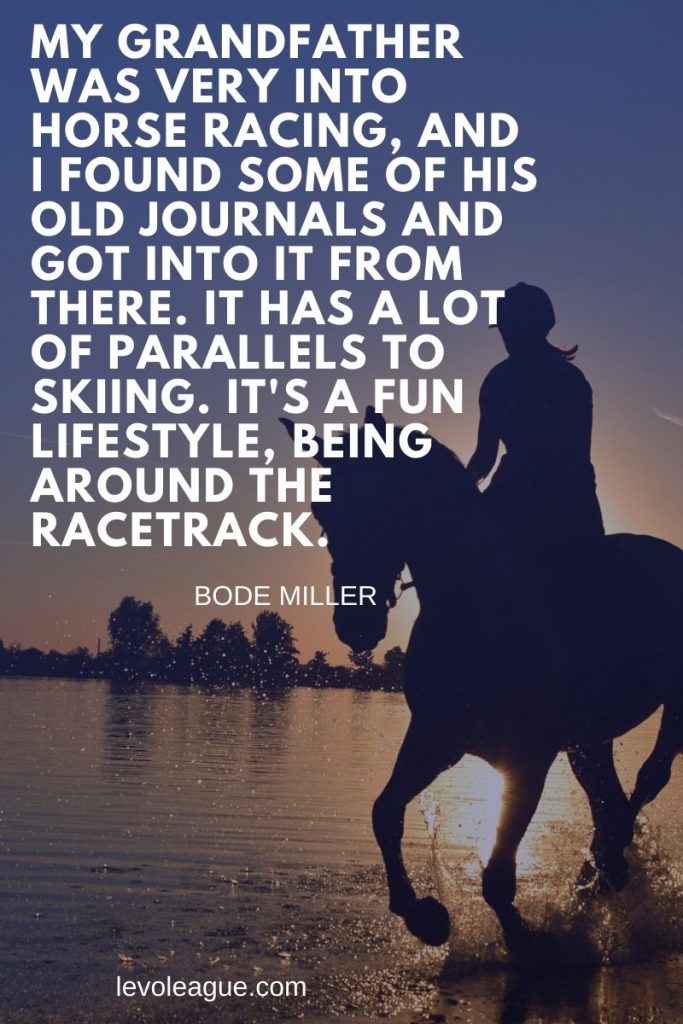 My grandfather was very into horse racing, and I found some of his old journals and got into it from there. It has a lot of parallels to skiing. It's a fun lifestyle, being around the racetrack. ~Bode Miller

My horse was so late getting home, he tiptoed into the stable. ~ Henny Youngman

The horse I bet on was so slow, the jockey kept a diary of the trip. ~ Henny Youngman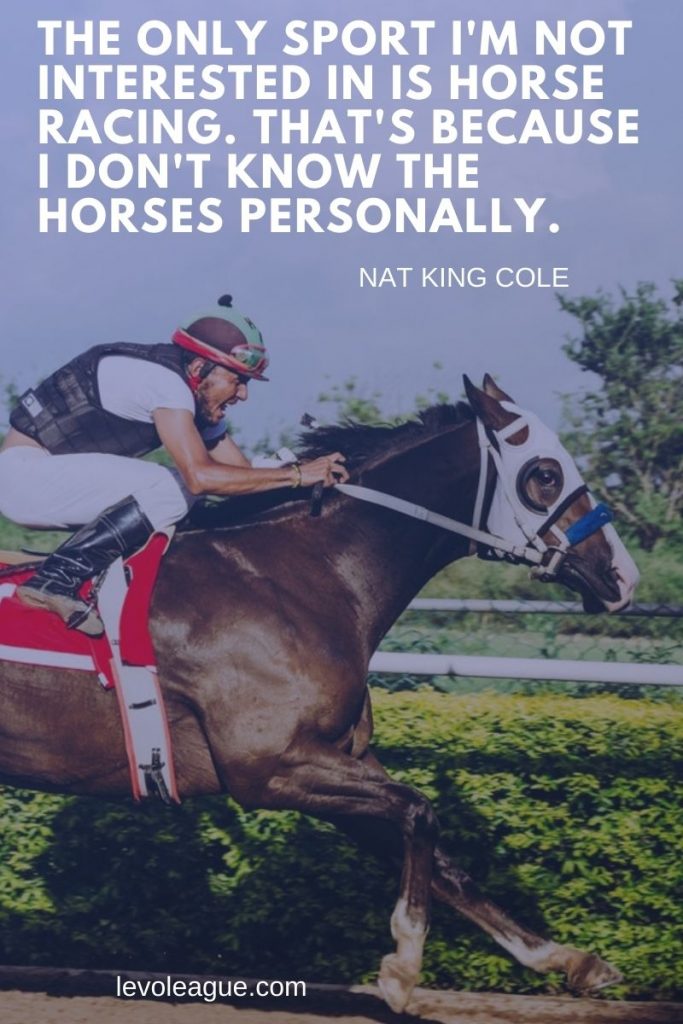 The only sport I'm not interested in is horse racing. That's because I don't know the horses personally. ~Nat King Cole

The profession of book writing makes horse racing seem like a solid, stable business. ~ John Steinbeck

The sport of horse racing which, at its best, showcases the majestic beauty of this animal and the athleticism of jockeys, has reached an alarming level of corruption and exploitation. ~Tom Udall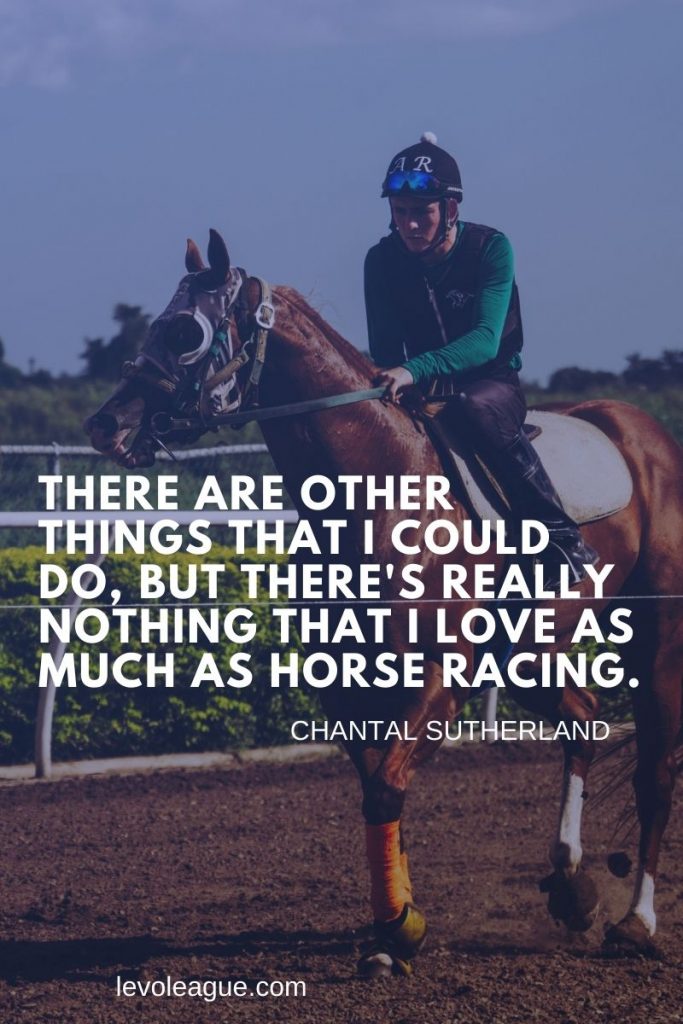 There are other things that I could do, but there's really nothing that I love as much as horse racing. ~Chantal Sutherland

There is a sociology of horses, as well as a psychology. It is most evident in the world of horse racing, where many horses are gathered together, where year after year, decade after decade, they do the same, rather simple thing – run in races and try to win. ~Jane Smiley

There is no secret so close as that between a rider and his horse. ~ Robert Smith Surtees

When I bestride him, I soar, I am a hawk: he trots the air; the earth sings when he touches it; the basest horn of his hoof is more musical than the pipe of Hermes. ~ William Shakespeare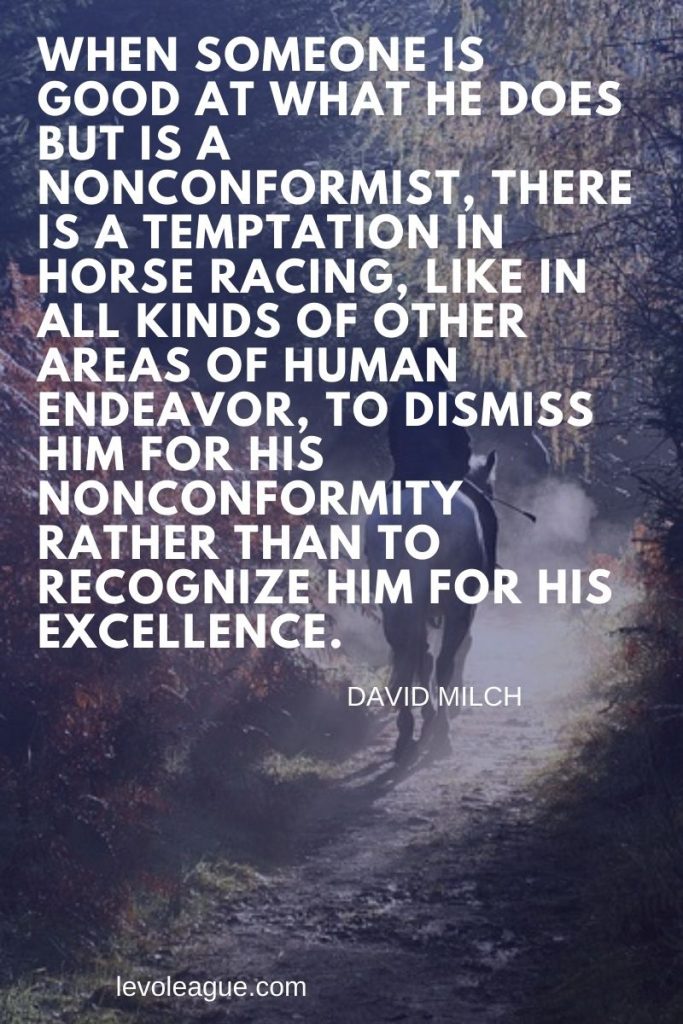 When someone is good at what he does but is a nonconformist, there is a temptation in horse racing, like in all kinds of other areas of human endeavor, to dismiss him for his nonconformity rather than to recognize him for his excellence. ~David Milch

You don't have to be Einstein to see that horse racing is dangerous. Those two ambulances driving behind you aren't there for the scenery. I will never get over the fatalities of colleagues. It is the saddest and toughest part of this sport. ~Tony McCoy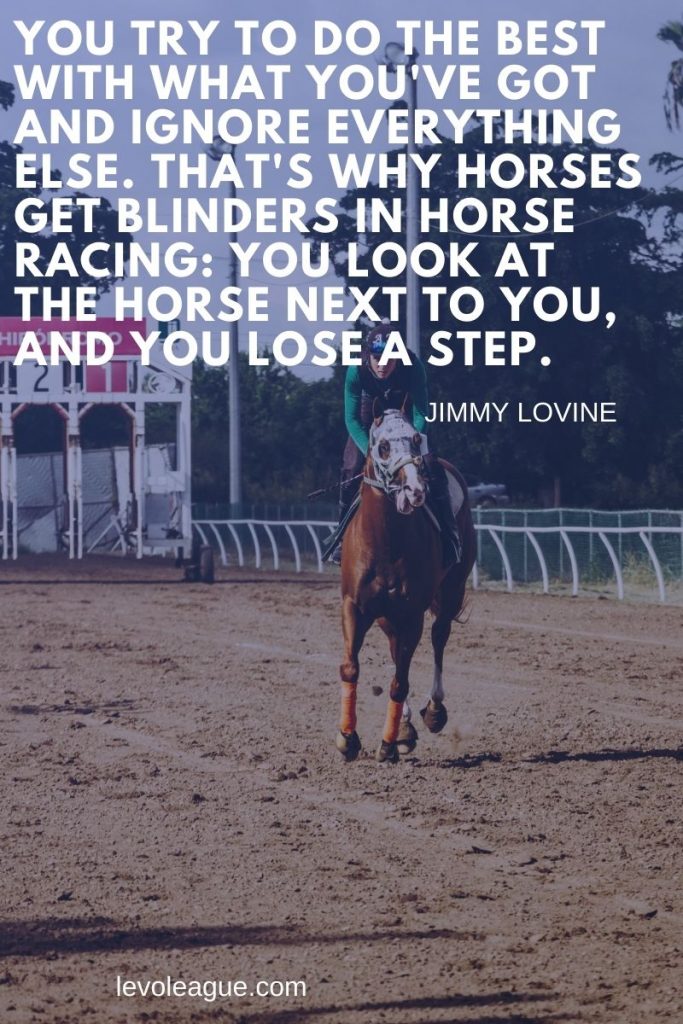 You try to do the best with what you've got and ignore everything else. That's why horses get blinders in horse racing: You look at the horse next to you, and you lose a step. ~Jimmy Lovine
More quotes